An even earlier start to the day as we pulled out of Aire St-Leger (near Saintes in South West France) shortly after 07:00. The facilities were still open and clean. Toilet roll was available on the shelves.
The 500 or so miles were completed by around 16:20. On the entire route, which for us was predominantly Peage, we can report that nearly all Aires were open from the Spanish border as far as Poitiers – but that was via the A10 from Bordeaux and not the N10.
From Poitiers to Calais, all Aires with fuel were open but very few others.
The roads were deserted.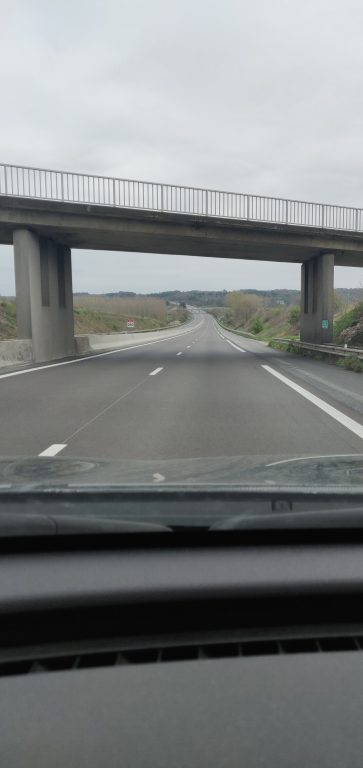 For some unknown reason, the French army was deployed at Eurotunnel check-in. Kids with very big machine guns checked the car and van. Not sure what they were looking for – toilet roll?
Our Flexi ticket allowed us to board the next train out of Calais (17:20) and we are back in Blighty. Relieved that we haven't yet caught the virus and doubly relieved that we didn't have any mechanical failures on the 1400 mile drive.
We are staying tonight at the CMC (Caravan and Motorhome Club) site near Folkestone which is the last night a CMC site will be open in the foreseeable future. Just another 250 miles to go to reach Devon.
An eventful Spain 2020 is complete. An unknown future lies ahead for all of us but for now we are extremely grateful not to be stranded in a Foreign land.
No thanks to Brittany Ferries who have just closed communications and accepted zero responsibility for their clients. Shame on you.
Conil de la Frontera to Calais in three driving stints with a Caravan behind is simply gruelling. It could not have been achieved if the roads hadn't been empty. Special thanks to Paul, Andrea, Barry, Denise, Brian and Jean for their company on the journey and to Teen and John for providing all the information from their trip 48 hours earlier.
I know from all the Social Media forums that we are just one couple out of thousands if not tens of thousands struggling to return home and wondering what awaits them.
Good luck to everyone caught up in this and stay safe. In particular to all the folks part of the community at Camping La Rosaleda, hope everything works out and we can meet up again next year.
Until next time, Adiós Amigos.