In hot climates, we've missed having a "proper" compressor based fridge. The absorption type fridges installed in Caravans / Motorhomes (and 12v peltier effect Coolboxes) have physical limitations. Temperature reductions of 20C to 30C below ambient are the best possible outcomes.
Thermoelectric coolboxes (peltier effect) can manage around a 20C reduction and absorption fridges maybe another 7C on top but the absorption fridge performance degrades rapiodly at higher outside temperatures.
A search for "compressor" coolboxes on the Internet doesn't give a huge amount of choice. They are also relatively expensive and very expensive when compared to a standard thermoelectric coolbox.
We settled on a Dometic CK40D Hybrid which has a capacity of around 38l and can run via its compressor on mains electric or thermoelectric with 12v. When running on mains, it can act as a freezer reducing food temperatures to -20C. It is also large enough to take full size drink bottles. In thermoelectric mode it will keep our drinks cold in the car during transit.
As luck would have it, someone on eBay was selling one for £250 – unused but the packaging was damaged. We were assured that the unit itself was unused, in perfect condition and after some negotiation, we agreed £225 but would collect from Redruth in Cornwall. This was not too inconvenient since we were in Brixham at the time and needed extra refridgeration capacity for our Christmas away.
We headed to Redruth and the eBay seller turned out to be a company called World of Camping – a predominantly Internet based seller. On arrival the Coolbox was waiting for us in the office. The packaging was a real mess so we asked to view the unit and associated materials. At this point, we noticed there was no 12v connection and the unit as advertised – a CK40D Hybrid – was just a CK40D (mains only).
This appeared to be a surprise to World of Camping as well as us and a quick look around the showroom revealed all the units were mains only. Anyhow, a guy in the office (maybe the owner?) took it upon himself to head off to the warehouse to check all of their stock. Turns out they had only one brand new Hybrid (much to their surprise) and we left with it at the agreed eBay price.
I've got to stress that the Customer Service was second to none and I'd have no hesitation whatsoever to buy from them again. A genuine error I'm certain and sorted out extremely professionally. Unhelpful of Dometic to have two different models of the CK40D.
The Fridge / Freezer is now keeping our Christmas food nice and cold.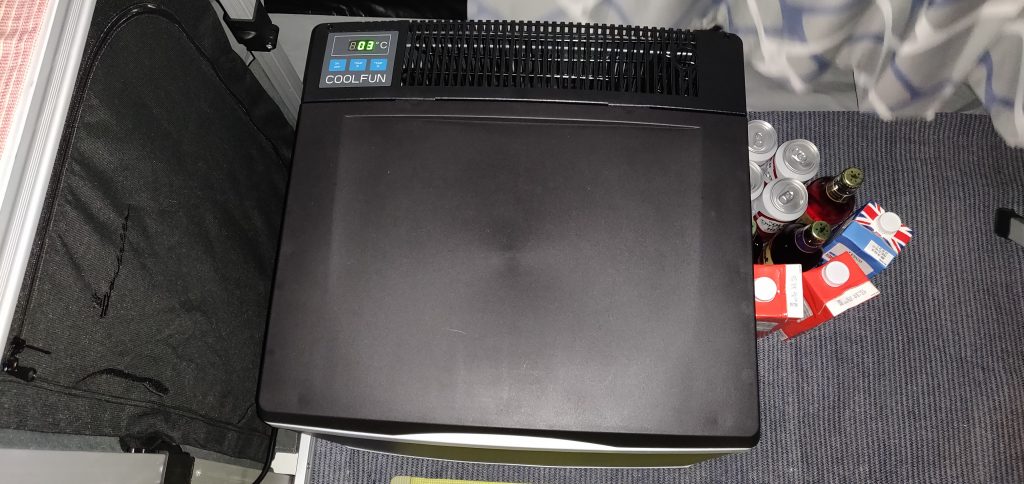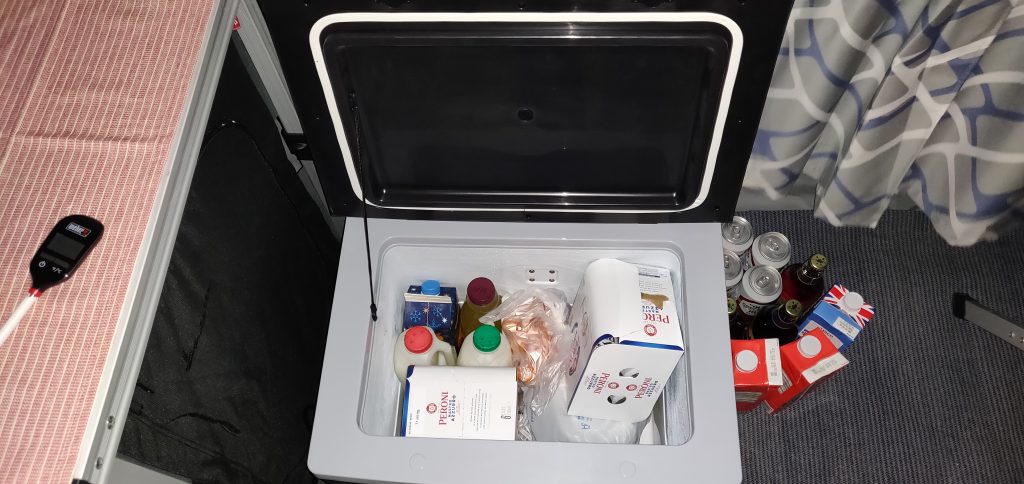 The Frigde / Freezer is performing as expected. There's a lot of space and it can indeed accommodate multiple full-size soft drink bottle.
A+ so far!