Rookesbury Park Caravan and Motorhome site is located near Wickham (Portsmouth) and is a favourite stopover site before departing or after arriving from the Portsmouth cross channel ferries.
We were looking for a site, last minute, somewhere between Devon and South West London where we could meet our friends Chris and Alison to celebrate birthdays. We would arrive on Sunday July 12th and depart on Thursday 16th July so a very swift visit.
As it turned out, Rookesbury Park was one of the very few Caravan Club sites with any vacancies for this period.
The journey was around 3 hours and uneventful – for us at least. Not so for the poor owners of this caravan at the side of the A35. Dual carriageway section and nice and flat.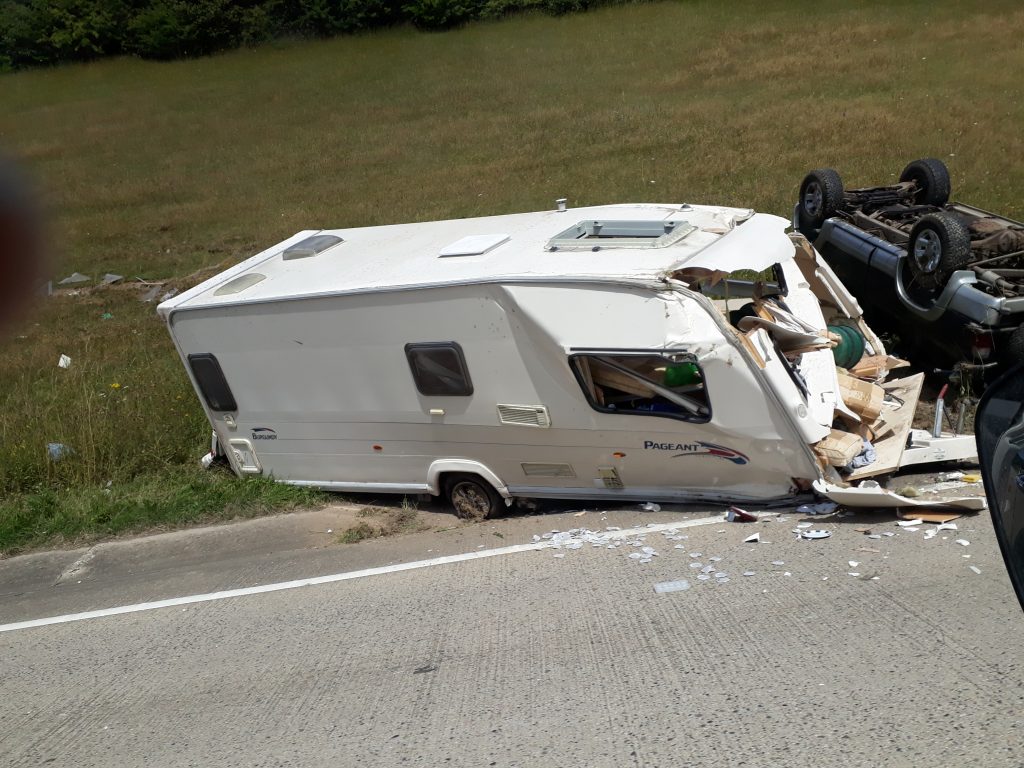 Despite having only just opened after lockdown, the site was packed with most people following correct protocol and maintaining social distancing.
The only change we noticed was the distribution of personal wristbands to display on one of three pegs outside the toilet block. If there's an empty peg then it's ok to go on in, if not then wait your turn. Quite why the toilets are good for 3 people and not 2 or 4 is anyone's guess.
In any case, we had already decided that we wouldn't be using the communal facilities which is fine as we have all we need in the caravan.
We set up with the sun canopy awning and enjoyed the afternoon BBQing and partaking in a beer or three.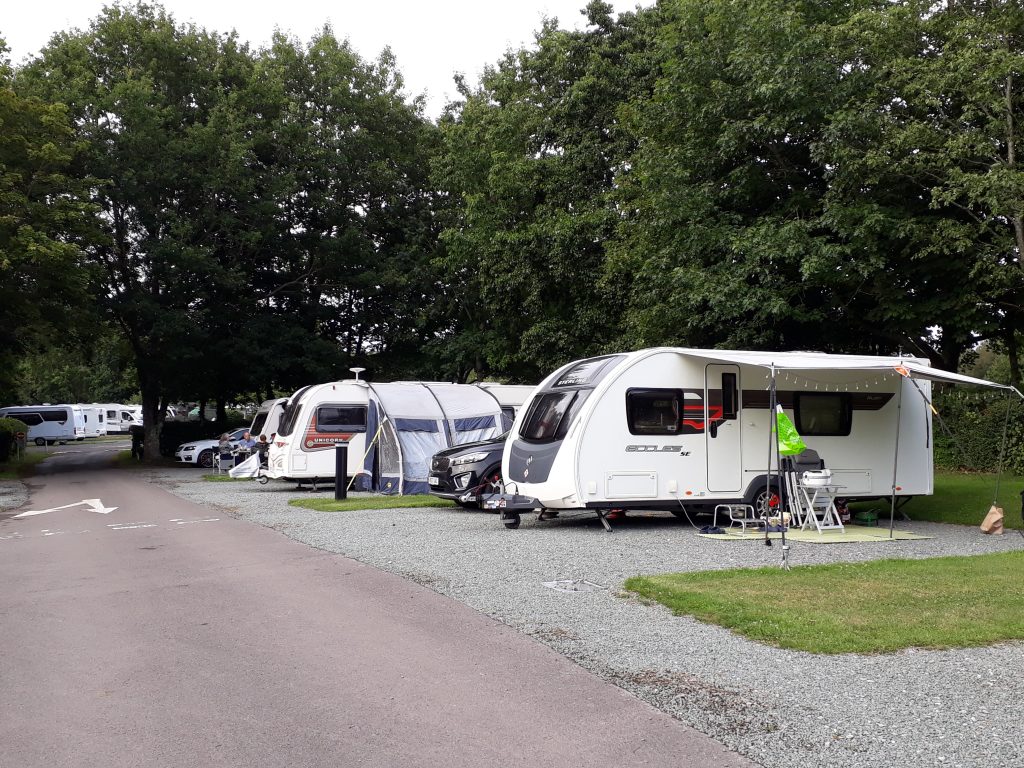 Now, it's been a long time since I visited the pub. Since we were in Spain for the first 3 months of 2020, it's possible I haven't visited an English pub at all this year. This would be rectified on Monday as Chris and I set out on the 1 hour walk from the caravan site into the village of Wickham. The first pub we came across (The Kings Head I believe) hadn't re-opened since lockdown but the second pub (there are only two pubs in Wickham) looked more promising. The sign was lit up and the lights were on…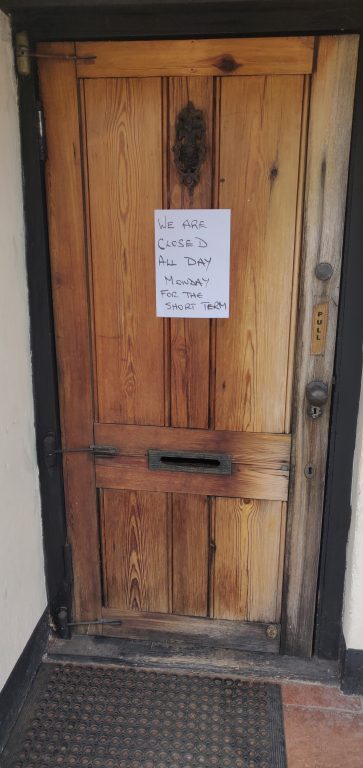 The rest of the afternoon was succinctly summarised in a glowing review I left on Tripadvisor.
Begin quote
Stunning Customer Service from the delightful landlady at the Square Cow. Due to Covid-19 they are (short term) closed on Monday's which was a huge disappointment for my buddy Chris and I after our 1 hour walk from the campsite.

Undeterred we purchased some drinks from the nearby Co-Op and sat in their new Beer Garden at the bottom of the square, attempting to enjoy our first pub visit for months…

The landlady appeared and engaged with us, explaining the situation AND bringing us snacks on the house and an ice bucket to keep our beer cold!

If this is how she treats her customers when they are closed, just think how good the service must be. We can't wait to head back…
Date of visit: July 2020

End Quote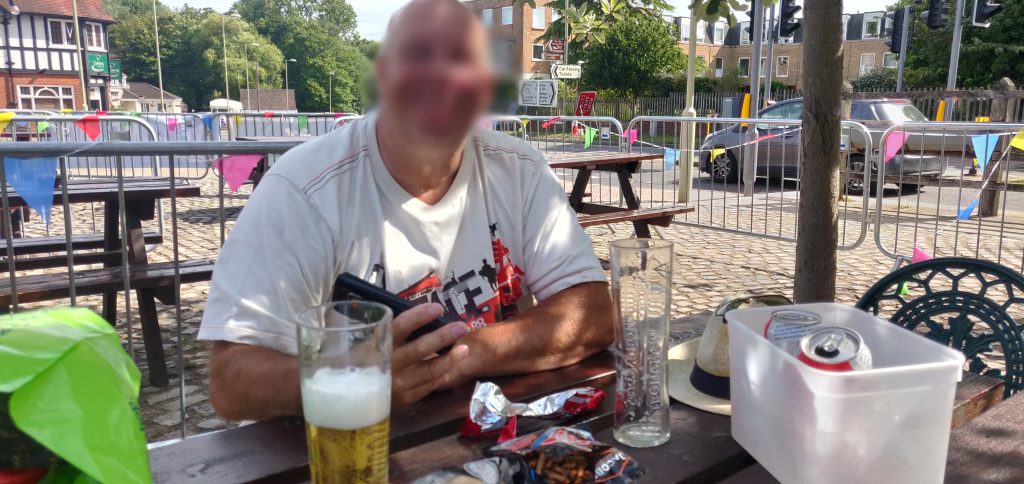 Part of the walk is along a disused railway line – note to oneself – must cycle this sometime in the future.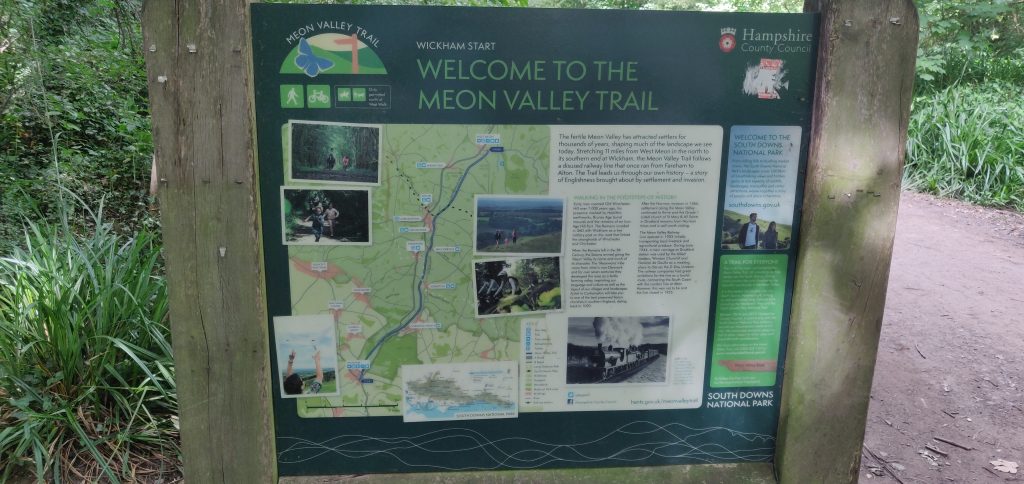 Some business to attend to on the Tuesday, on Wednesday a guided tour of Hayling Island to take a look at Chris and Alison's new house purchase and then home on Thursday.
Wish we could have stayed longer.